One Year Later
circus
One year ago today, I quit my full-time job as a software engineer at Twitter to "run away with the circus." The idea was that I would give myself one year to get some sort of meaningful work in the circus industry — a tour…a contract at a theme park…a cruise ship gig… It didn't have to be my dream job, but I wanted to see if I could at least get my foot in the door somewhere. I wanted to know if I was "good enough," whatever that may mean. The rule I made for myself was that if I didn't get something in one year — by Feb 4, 2016 — then, it's time to go back to tech…or school.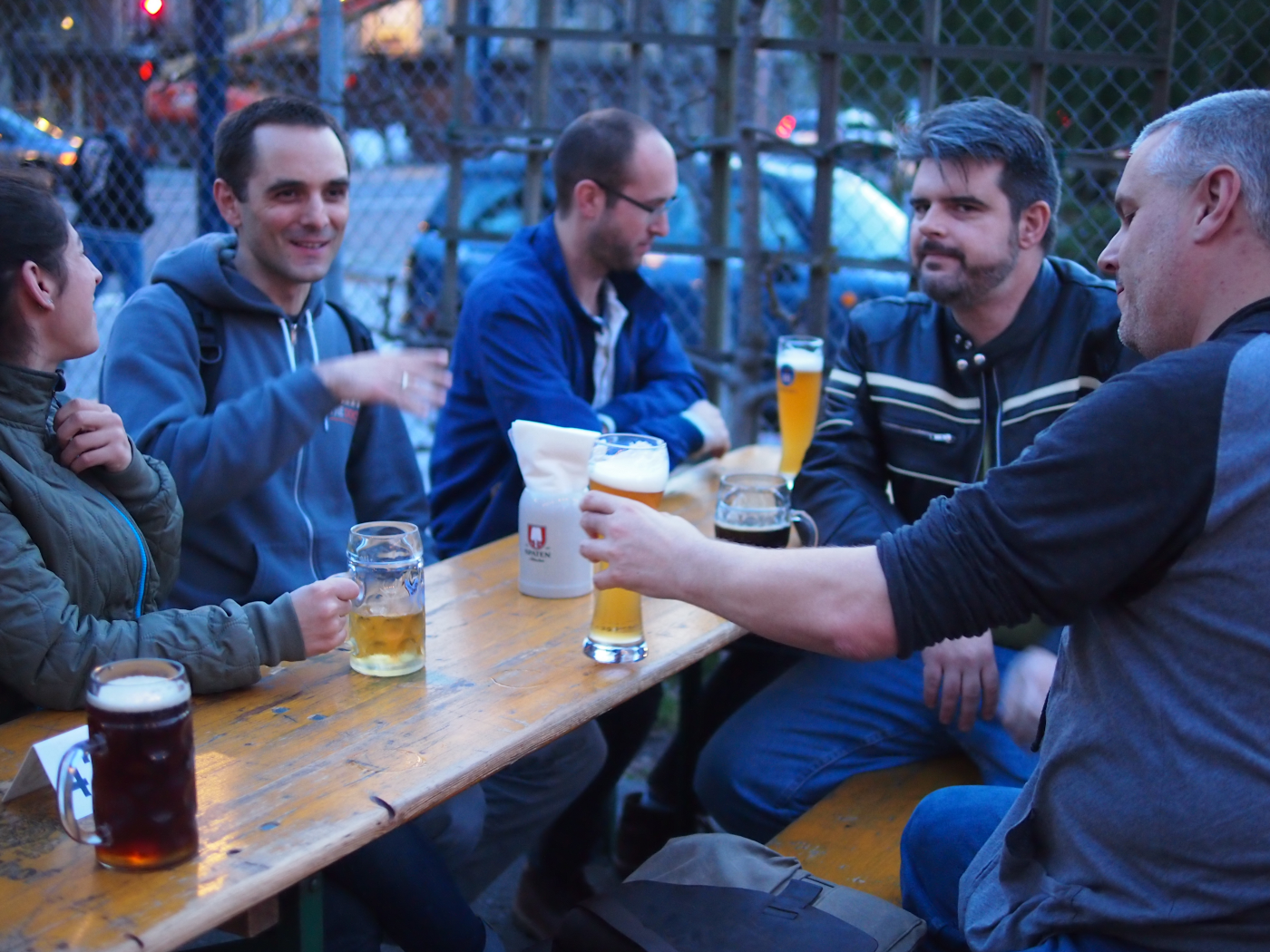 When I left my job, I had been training aerial work and other related arts for six years — six years, part-time. To try to get real work in an industry where many professionals have been training, dancing, tumbling, juggling, unicycling, etc. their whole lives is a tall order. That said, I knew I'd never forgive myself if I didn't try. So, I tried, and today marks 1 year. I thought it would be helpful to write down a summary of that year because in many ways it has been a blur. I wanted to take a look back and see what really happened. So, here we go.
February, 2015
For the first time in my life, as of February 4, 2015, I was without structure. Never before had I not been either (1) an employee or (2) in school. For the first time, there were no due dates, no sprints, no grades and no bosses. There was no one to fire me for not going to work a.k.a. training. No one to tell me to send in my audition tapes. Deadlines existed but no one would punish me if I didn't hit them. I just wouldn't get the gig.
This first month was hard. And exciting. And utterly, completely terrifying. Becoming a circus performer was not like my other paths in life. It wasn't linear. I started late. I didn't go to a professional training school. I didn't come from a circus family. It was really all up to me to make it happen, and, in many ways, I felt like I didn't know how.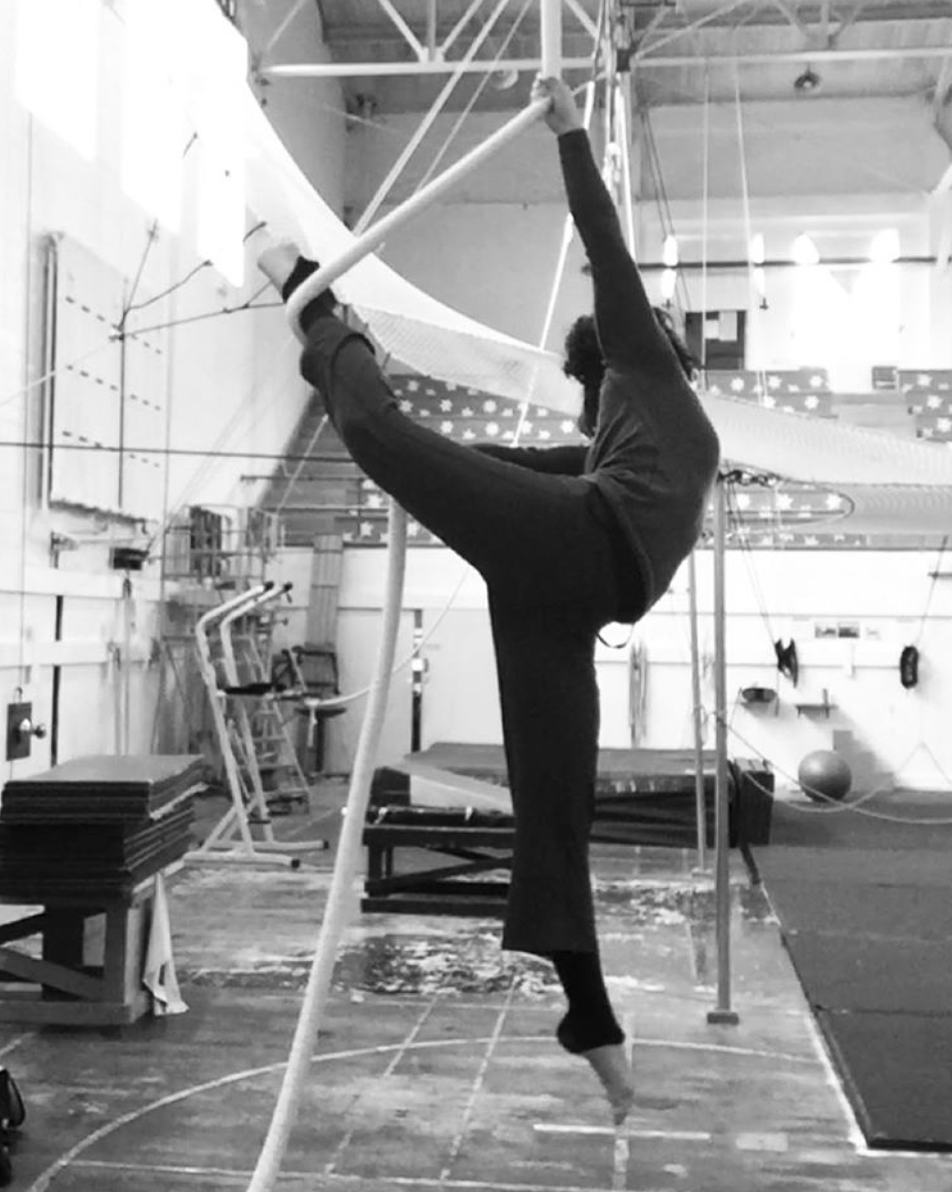 I asked for help from anyone and everyone who would listen. From past teachers and present ones. From mentors. From performers that didn't even know me. From people I admired from other industries. From friends. From an amazing therapist.
February felt like I had been thrown into a huge sea with a broken lifeboat and slowly but surely I had to put the pieces together to even begin starting my adventure to somewhere new.
March, 2015
By March things started to feel "normal." I had a daily routine. Times I went to the gym to stretch and work on my aerial acts. Times for tumbling and handstands. Times for dance and improv. I had a full schedule. I was teaching. I was even working in tech a little bit as an instructor for CodePath to help myself out financially.
It felt good. I felt like I'd gotten the life raft under me and was beginning to set sail for…something?
Near the end of the month, The Acrobatic Conundrum came to town, touring their latest show, The Language of Chance. Seeing the show inspired me… I couldn't help but think "This is what I want to be doing." It wasn't only performance, but it was meaningful performance. They were telling a story through circus. They'd stripped a way a lot of the costumes and drama and made something really tangible. I loved it.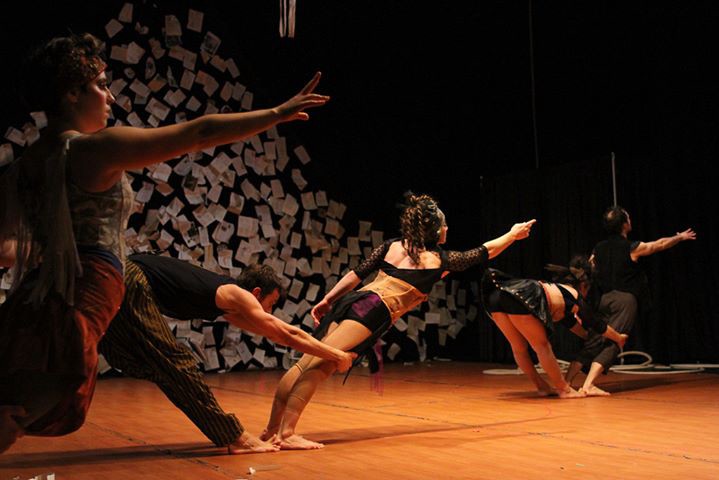 Later that month, I had my first big audition for Kinetic Arts Productions' upcoming show, Salvage. I had to show them everything. My act, my improv skills, my (then, very poor) tumbling, my dancing and my acting. I loved the audition process. It felt like fun. Like a game. We were all pushing ourselves to our limits and playing games to see how we worked together. In the end, I didn't get cast, but I still felt like I was on the right road. I received really good feedback on both what I did well and what I needed to work on. Next steps.
April, 2015
I saw a posting for an audition for Le Rêve in Las Vegas. In the next moment that swept over me, I realized I could actually attend this audition, now. What's more…I should attend it. And so I built myself an intense daily training regimen to prepare me for the audition in 20 days. I ended up writing a whole big post about the experience, so I'll simply summarize it here by saying that (1) I had a blast and became a lot closer to some circus friends; (2) I learned a lot about what big, corporate circuses look for…it's generally not me; (3) I passed all the physical "tests," but I still got cut.
I was starting to feel a little frustrated. I was working for CodePath still to bring in money, but hadn't had a single substantial bit of circus work yet. I'd had some infrequent work in night clubs, but I had pretty much admitted to myself at this point that I hated performing the nightlife scene. I simply didn't have the emotional stamina to put on a smile and a skimpy costume at 2am. I have so much respect for the performers that do this day in and day out. It is hard, grueling, and often thankless work. I started to question myself: "Maybe this circus world isn't for me? This is part of paying one's dues, right?"
May 15, 2015
Thankfully, in May, it started to feel like it was coming together. Terry Crane, one of my coaches and rope heroes invited me to come perform in Volume III with his group, The Acrobatic Conundrum, in Seattle.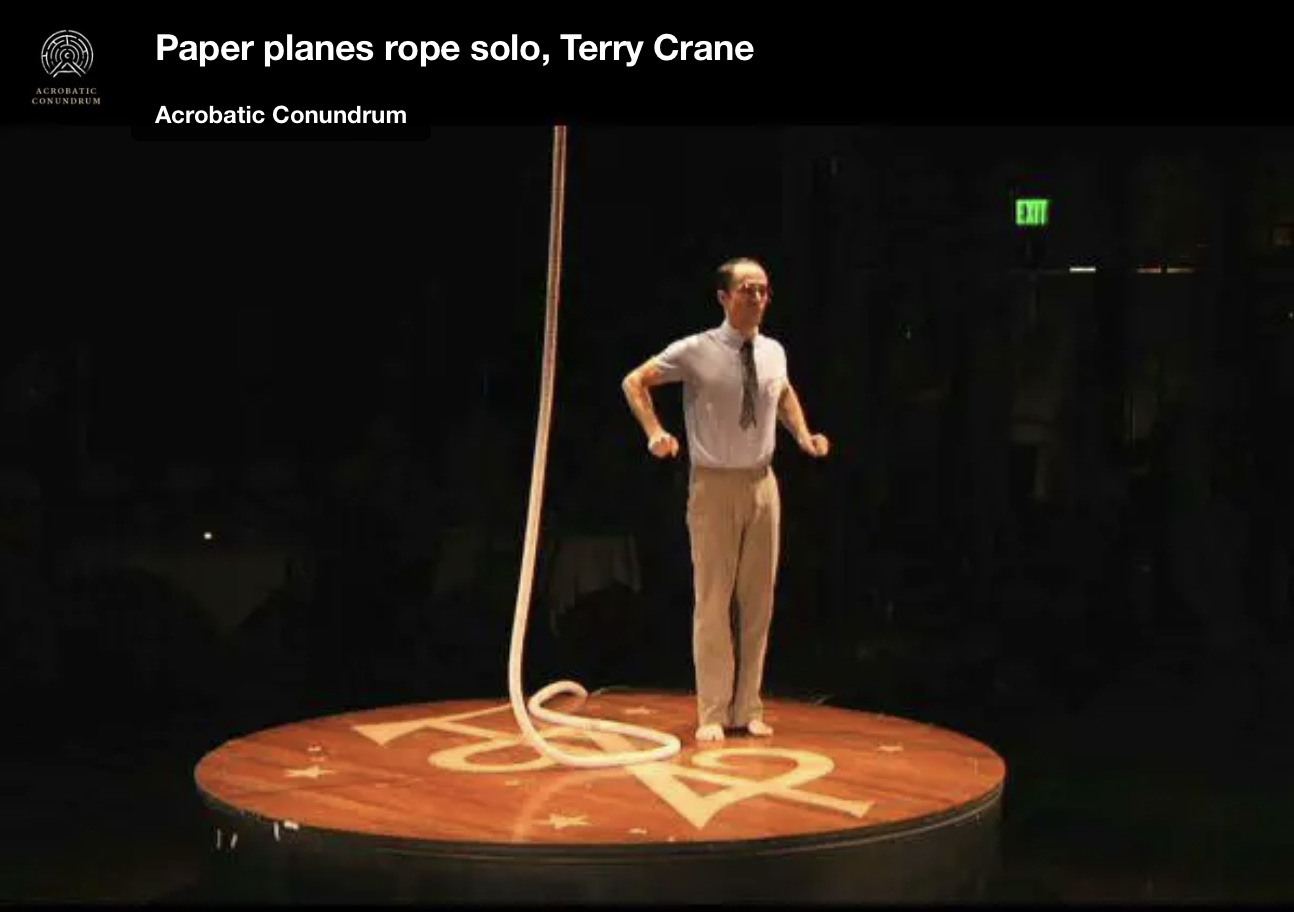 This was a dream come true: to be on stage with my favorite troupe, next to world-class acts. It felt like things were finally happening for me. The show was incredible. It was one of those times in my life where I could say, "This is it. This is exactly what I want to be doing." The act I was in, the Rope Battle Royale, as it was titled, was filmed and ended up going a little viral, at least within the circus community. It felt like this could be the beginning of more work in the industry.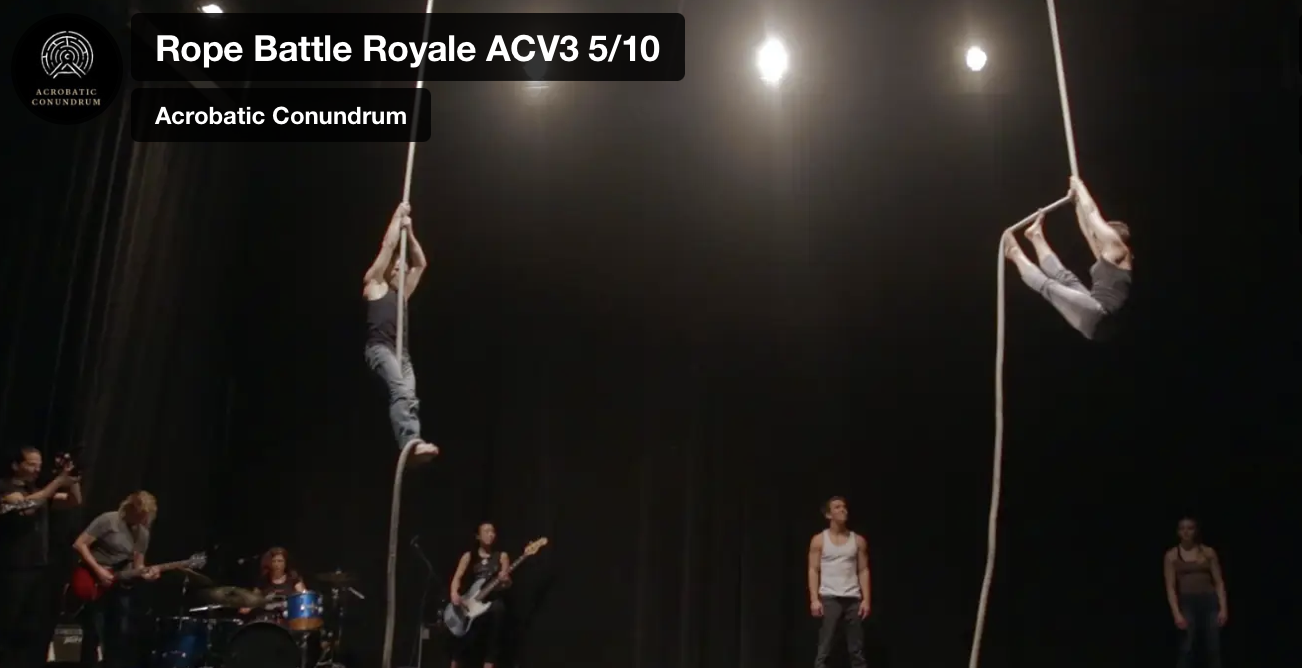 While in this show, I also bonded with an incredible young circus artist named Ellie. She was, at the time, 12 years old, and was and is, to date, the most gifted rope artist I have ever met. I have seen her rope act at least 20 times, and I've gotten weepy every single one of them.
I'd never had siblings; growing closer to such a talented person and her family was one of the greatest joys of that whole trip. There is both a sense of big-sisterhood and admiration for Ellie that seem to balance out and make me smile.
June, 2015
Returning from the high of the May shows, I noticed a pain in my right shoulder. My choreography had had me spending a fair deal more time using my right arm than my left. Upon returning home, I kept training. The pain got worse. I started to find I was having trouble hanging on to the rope, trouble inverting, trouble getting through my act. And so, I took a trip to the doctor. After being passed between a few specialists, the verdict was in. Impingement of the bicep tendon. 8 week of physical therapy twice a week and very little use of the arm.
Perhaps 8 weeks doesn't sound like much, but as I'd only given my self a year to "prove myself" in circus, it felt like a whole lot — especially because 8 weeks easily become 10 or 12 since it takes good long while to get back in shape after an injury.
I was devastated. For the first few weeks, I barely got myself to the gym. I hardly cared to do anything. It felt like this was it. My body had vetoed circus as a career path. However, after some time, I started to find that it wasn't so bad. I could still train lightly in the air. I could still work on handstands. I could still stretch and dance. And, I could use my time at the gym to work on my physical therapy exercises while surrounded by awesome friends who understood what I was going through.
July, 2015
On Facebook, I saw a posting for a rope convention in Barcelona. Lead by two of the most renowned rope artists on earth (Nacho Ricci and Emiliano Ron), it was a coming together of top artists from around the world to share rope moves, jam and learn. I had to go. The timing was perfect. It was right at the end of my healing period for my shoulder, at the end of July.
So I applied and got one of the last slots. I flew out filled with excitement and nerves.
When I arrived at the convention, with my rope slung over my shoulders, speaking my terrible Spanish, I quickly realized one thing: I'm an introvert. I'm a huge introvert and your average performer is…not. Excitement quickly turned to terror as we played get-to-know each other games in a mix of English, Spanish, Catalan and French. Terror turned to self-doubt as I watched the other artists working their magic on the ropes. "Why am I even here?" "I don't belong here." "I cannot do any of these tricks."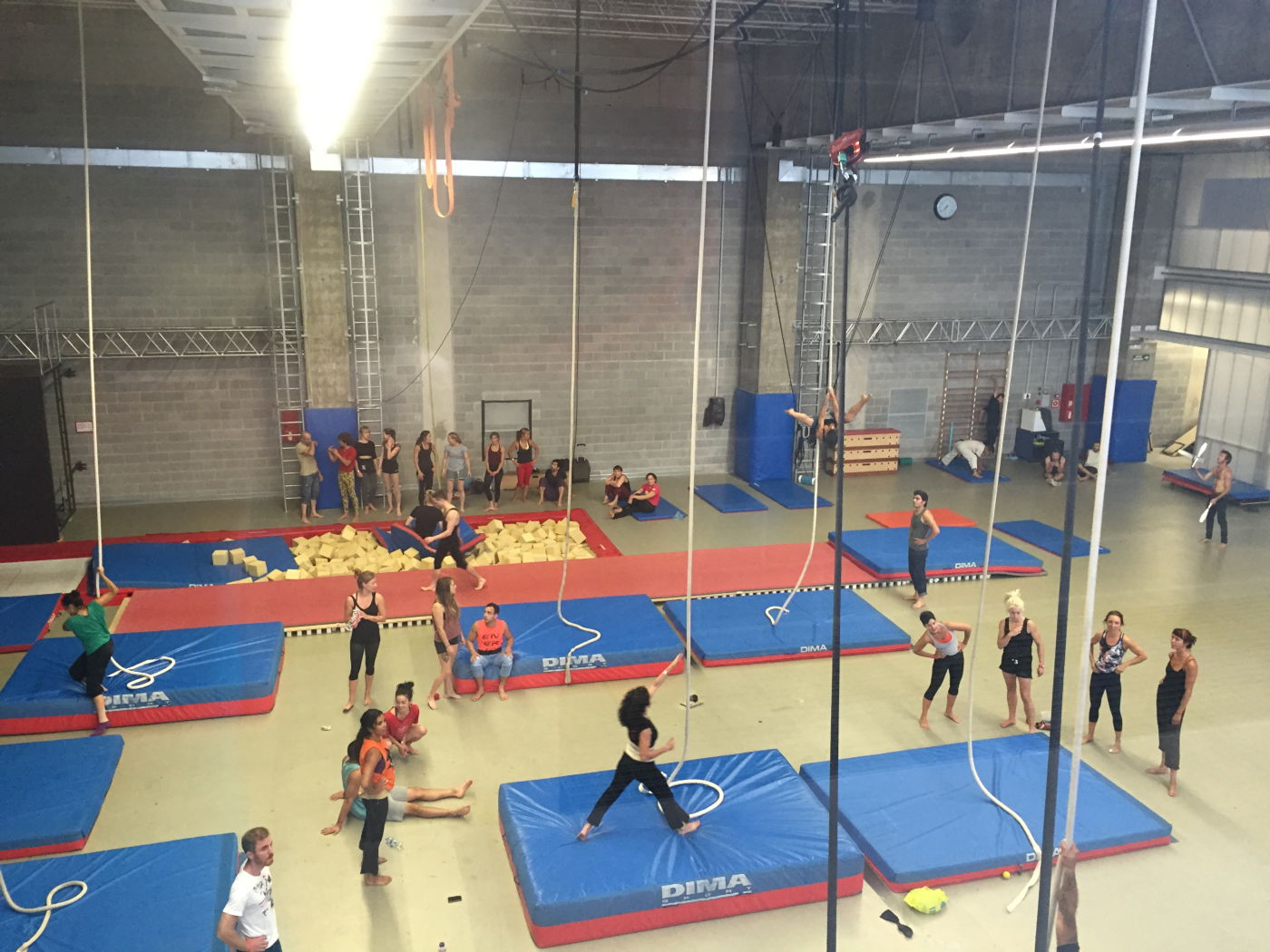 Waking up for the second day of the convention I almost didn't even go. "Maybe I'll just go see Barcelona and call it done. Circus just isn't for me." But, I went. This day was a little better. I was still shy and scared, but I managed to find some comfort in a couple other more introverted souls like myself. I tried to stay near them. We worked more quietly, but we learned from each other. This slowly brought me out of my shell. By the last day, while I wasn't fully socially adapted, I finally felt comfortable talking to people. I could ask questions. I could cheer loudly as people caught their first release moves (let go of rope — do some sort of flip — re-catch rope).
As the convention came to an end, I actually felt sad. I was finally starting to feel like I had something to say. Something to share. I was finally starting to find my friends and to have the guts to actually make audible conversation with Nacho and Emiliano, even in Spanish.
Even though two-thirds of the rope convention were not what I would call a "good time" for me, the experience was immensely educational. I learned that, oh yes, I am a huge introvert. But, I also found that, given enough time and enough willingness to keep trying, I do finally fit myself into a situation. I discovered I am actually pretty good at rope, but I am very shy about it. I also found out a lot about what I want artistically. The convention spent most of the time focusing on acrobatic rope work. Work where, if you do it without a crash pad, you basically have a death wish. While I love to train this work the same way I love to sky-dive, I also realized it's not the reason I do rope. For me it's about the dance and the story and the quality of movement, and I don't often find as much dance and story in those moves. And that's ok. I'm not trying to be the next winner of Cirque de Demain (think Olympics for Cirque). I am still trying to find my voice. And so, I can put a lot less pressure on myself about the "hard tricks." I can let them be fun to learn, but I don't have to berate and hate myself when I can't or don't learn them.
August, September & October, 2015
Nothing happened. Well, pretty much nothing. I kept on training. Every. Single. Day. I sent out my promo packets. No one responded.
My skills were improving, but I felt like it didn't matter. There was a local gig here or there, but nothing more.
I finally filmed my new rope act, up in Seattle. This process ended up being intensely emotional. It turns out when I poured my heart and soul into a piece of art, it became really hard to capture it on camera. It felt like being told to cry convincingly on camera while telling my life story. Somehow, though, the video came out ok. Here it is: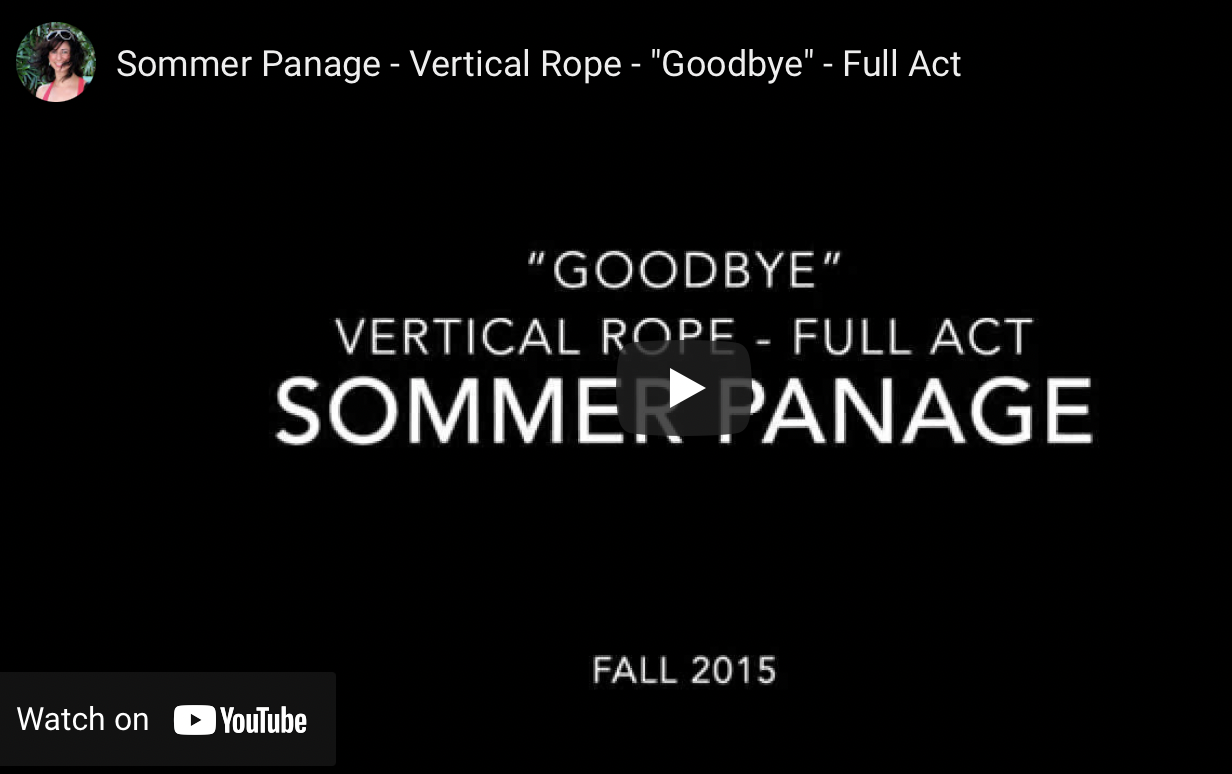 Still, with new footage, a new demo and lots of promo packets sent out, I had no real circus work to speak of. Just a gig here and there. I was starting to feel down. Some days it was hard to even get myself to train. Thankfully, I had developed a friendship with a lovely and highly motivating training buddy, Céline. We began building a doubles number and we did daily straps conditioning. I am so grateful for her; she kept me sane.
In contrast to all the circus troubles, I was having no trouble finding contacting work as an iOS developer. I was beginning my third contract by October. While appreciative of the income, it felt like everything was pointing me back to tech for good, even though in my heart, I wasn't ready to go.
November, 2015
Here, in November, came a glimmer of hope. I was invited back up to Seattle to do a reprise of the Rope Battle Royale for TEDx. This was a huge honor. The chance to perform in front of thousands of people for a TEDx event with an amazingly talented cast, once again.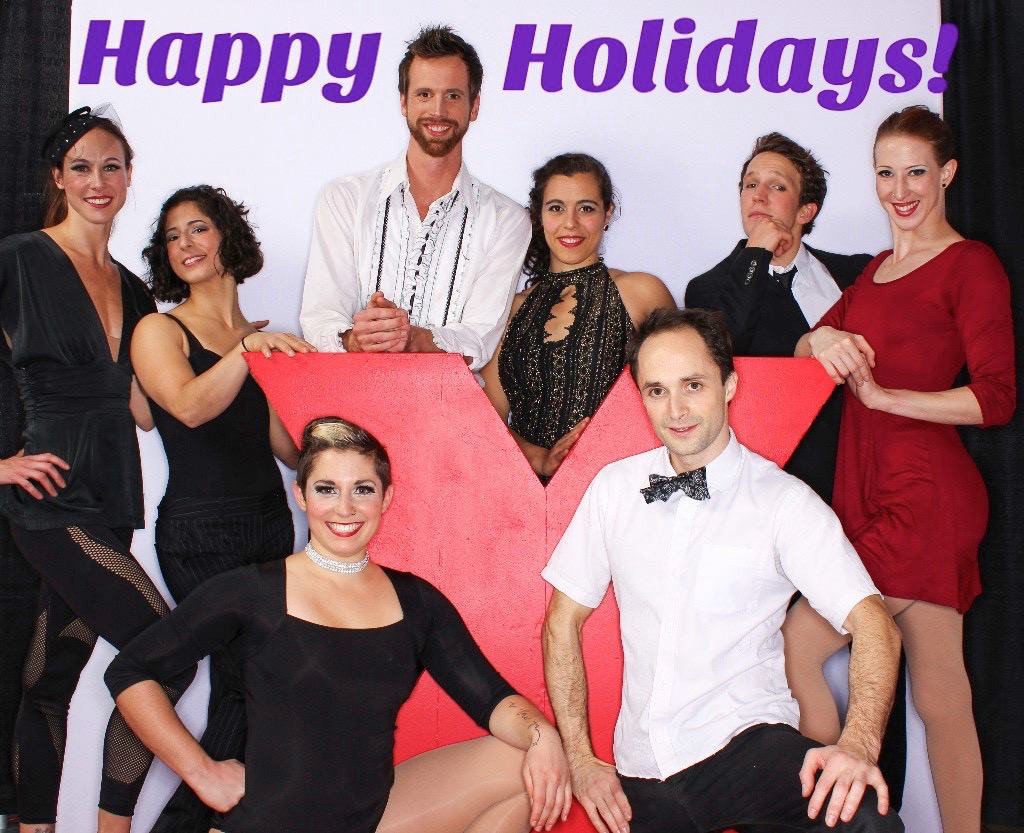 As I was just diving down into a pretty deep emotional funk, this was just what I needed. A reminder of WHY I am doing circus: to make something that connects to people and something that connects people to each other. The 10 minutes we spent on stage were enough to bring back my hope that maybe I can find a way to do this, and they were enough to remind me why this was all so important to me in the first place.
December, 2015
Coming down, yet again, from another performance high, I had to return to business as usual. Thankfully the holidays offered a lovely distraction both in the form of more gigs (companies having holiday parties), more tech work and more travel! I even managed what I like to call MY DOUBLE YAHTZEE where I was hired to perform at a company for which I'd contracted as a tech worker.
For the holidays, I traveled down to Mexico to train straps and see the country. The holiday ended up being a chance to form another amazing new friendship with an incredible straps coach in Guadalajara, Juan Luis. He and his girlfriend ended up making us feel so at home in their beautiful country. After a 2 hour straps private that kicked my butt, we ended up spending nearly every day of the trip learning about Mexico through their eyes. They shared their lives and passions, their favorite places and their families with us.
This trip offered me an important reminder about friendship and community. In the circus world, where everyone is constantly traveling and moving around, the ability to find community, friendship, even family wherever one goes is so important. It can often be the only thing that is grounding when the rest of the world is upside down and money is hard to come by. I cannot wait to go back to Guadalajara and see more of this beautiful place and learn more from Juan Luis.
January, 2015
I broke my arm. Well, actually, it turns out I'd been breaking my arm for about the past 3 months. Over the last months, I'd notice a dull ache in my left forearm. Some days the ache was so strong I couldn't hold my grip. Other days I hardly noticed it. Still, the more I trained, the worse it got.
Finally, I saw a doctor and, after waging war with my insurance company, got an MRI. The news came back: a 9cm long stress fracture in my left ulna. I'm not allowed to use it, not even to lift a frying pan, for 6–8 weeks. Then slowly, I can come back to training.
This was it. No use of an arm. Again. And this time I couldn't even tumble. Or do handstands. I was relegated to stretching and dance until…March.
At this point, I felt like it was time to start finding a tech job again. I knew I had until February 4th to find circus work, but, with a broken arm and no skills to demonstrate, what could I find?
I felt grateful for the year I'd had. Grateful for the show with Acrobatic Conundrum, the TEDx event, the rope convention and the lessons in Guadalajara. I knew I wouldn't trade any of it, but I couldn't help to be painfully heart-broken that my body had, once and for all, seemed to say "Nope. You're done." Welp, I'd tried.
Today
And, so here we are, one year later. I suppose this is where I announce I'm now starting back into tech at company X. Except it's not.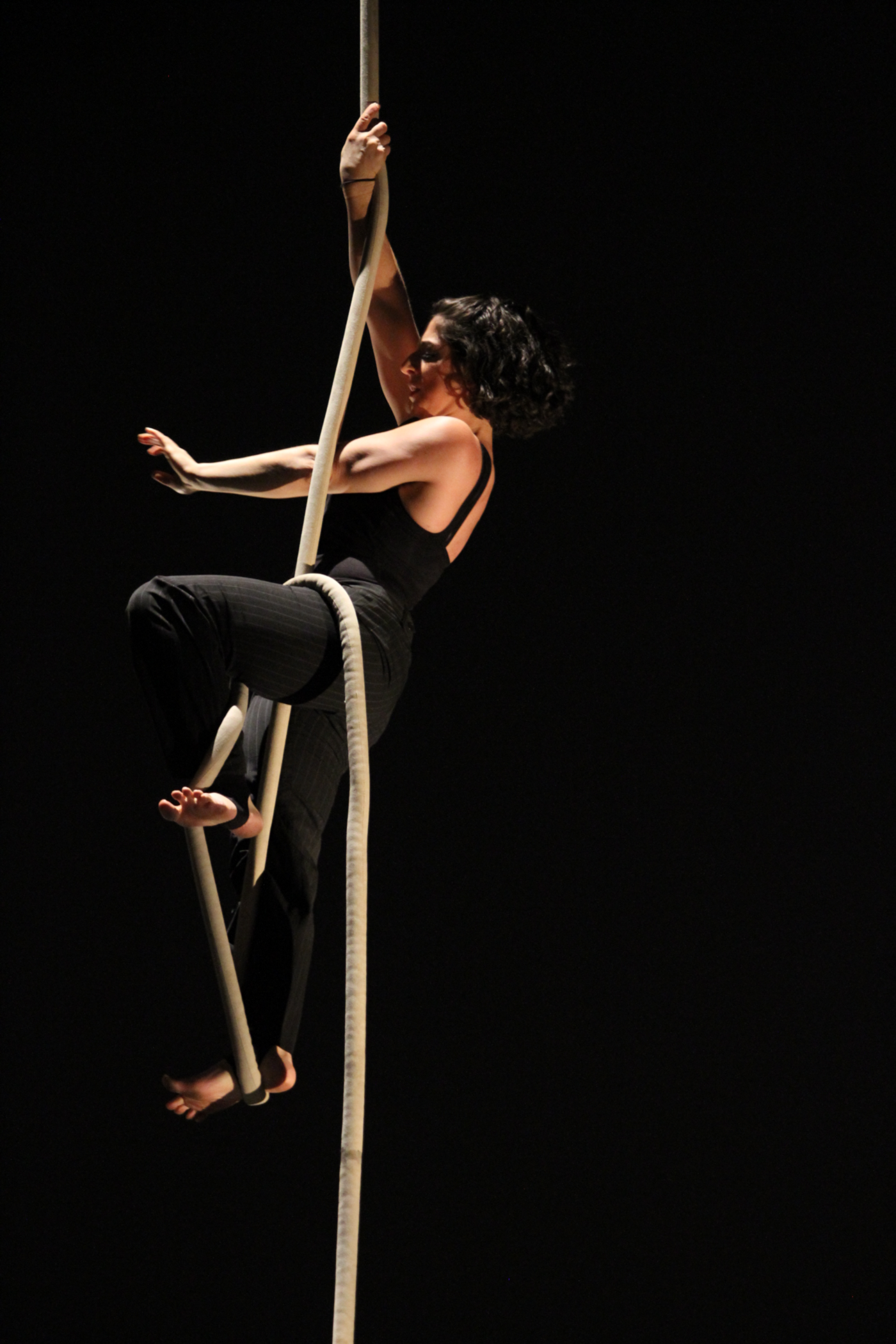 I don't really understand life. I don't understand it at all. But here's what happened: As January came to a close, I got an email from Acrobatic Conundrum with the subject line "Possible work?" I had no idea what this was. Terry knew my arm was broken. What could they want?
It turns out, my broken arm was exactly why they were emailing. They didn't need another rope artist, but they did need a stage and tour manager for their upcoming show, Love and Gravity. The members of the troupe already knew me and (evidently) thought I'd be great for the job. When they heard I couldn't train anyway, it seemed like the perfect fit. Something circusy to do while I heal!
I flew up to Seattle to talk it over with Terry. He was sold on the idea. He said, once my arm was better, I should even be able to be in a couple small bits of the show since they could always use another rope artist for the classic Rope Battle.
So, in two weeks I'm leaving for my first real tour. Of course it's not the dream job, and I won't/can't even be performing much, but it's exciting and it's circus and it's a humbling chance to work with a group that I really believe in, even from behind the curtain. It's a chance to learn about things from the other side and to spend time with some incredible artists and learn from them as well.
I signed the contract on February 3, 2016. This was the very last day of the one year I'd given myself to get some "real work" in the circus industry. I suppose I cut it a little close, but I made it.
This last year was full of ups and downs. Moments when I wanted to quit and moments when I couldn't imagine doing anything else. I won't kid myself into thinking this next one will be any different. I'm excited to see what it brings, and I think I might at least be a little bit more equipped to handle it all.
Stay tuned…